Why The Ball Valves Are The Most Widely Used In The Industrial Valves
author: ATHENA GROUP
2023-06-13
Ball valves are quarter-turn valves that use a hollow, perforated, and pivoting ball to control the flow of materials from one opening to the next. The valve can be open, closed, or partially open to allow gasses, liquids, and slurry materials pass through it. Ball valves are used in applications where tight shut-off is required.   
Ball valves are extremely versatile as they can handle pressures up to 1000 bars and temperatures up to 400 degrees. Their sizes range from 0.5 cm to 121 cm and they are easy to operate and repair. Ball valves are designed to allow only a 90-degree rotation for opening and closing the valve. This means the valve locks fully when the handle is turned. Ball valves are popular in industrial use because of the air-tight seal they provide when fully closed.
1.Operating Principle Of Ball Valve
The opening and closing part of the ball valve is a ball with a circular bore, rotating around the axis perpendicular to the bore, the ball rotates with the stem to achieve the purpose of opening and closing the bore. Ball valves require only 90 degree rotation and a small torque to close tightly. According to the needs of the working conditions, the assembly of different driving devices to form a variety of different control methods of the ball valve, such as manual ball valve,electric ball valve, pneumatic ball valve, hydraulic ball valve and so on.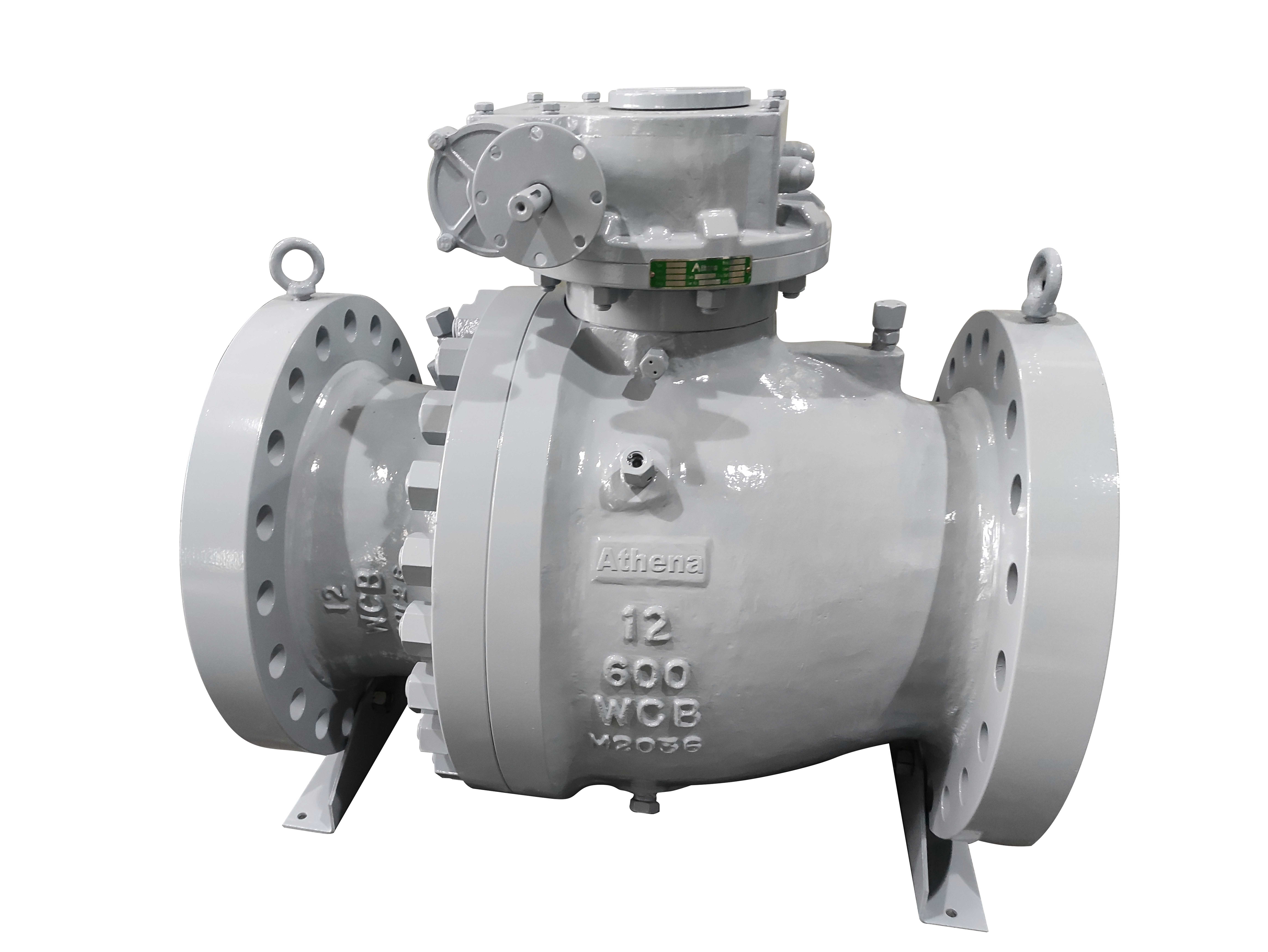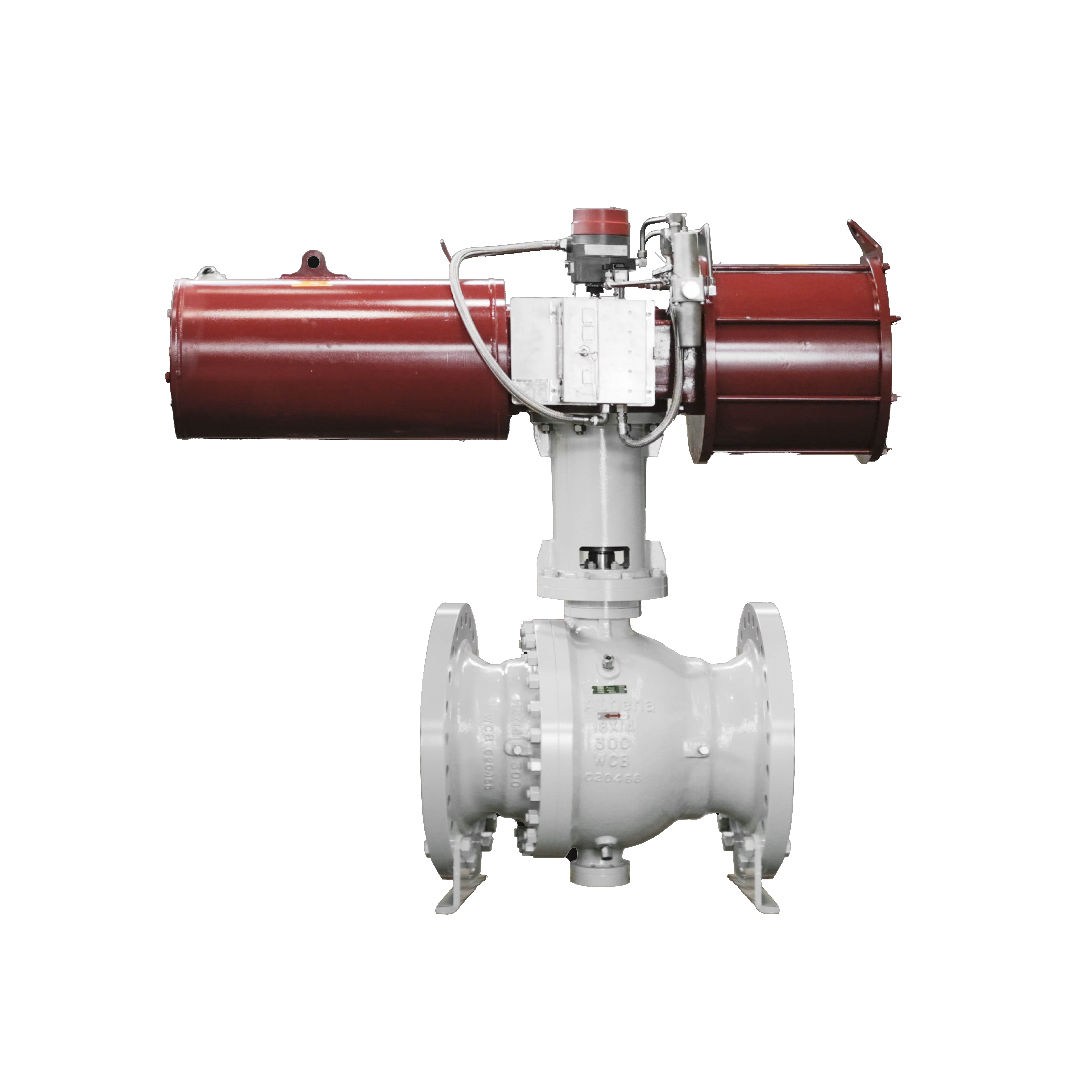 //www.athenavalve.com/products/forged-steel-trunnion-ball-valve.html                                                                 //www.athenavalve.com/products/pneumatic-ball-valve.html
(1).When the ball valve turns 90 degrees, the inlet and outlet should all present the ball mouth, so as to open the flow, and basically no flow resistance.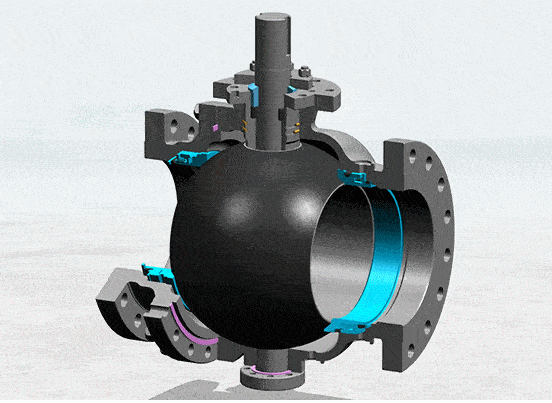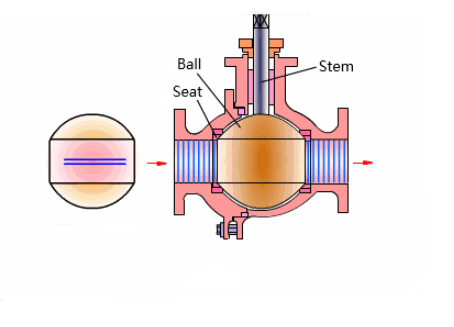 (2).When the ball valve rotates 90 degrees, the inlet and outlet should be all spherical, so as to close the valve and truncate the flow of the medium.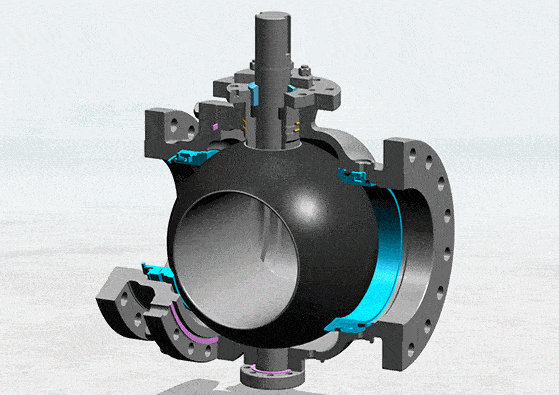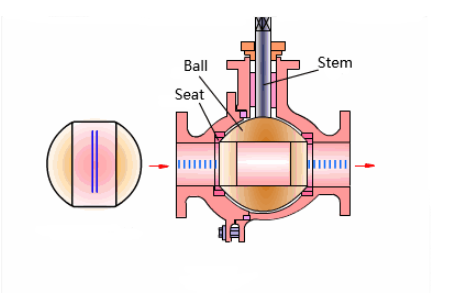 The valve can be partially opened but that causes damage to the ball valve. This is the reason why ball valves do not belong to valves recommended for throttle applications. They are most suitable for applications where tight shutoff is necessary for example to control the flow of gas.
Ball valves can be unidirectional, bidirectional, or multidirectional depending on the number of valve seats and ports. For example, a two-way ball valve with a single seat will be unidirectional with flow direction indicated on the valve. The same valve with two seats will be bidirectional. In this valve, one seat will be on the upstream side while the other will be on the downstream side of the ball. Three-way, four-way, and five-way multiport ball valves can be unidirectional if the flow is entering through a designated port. Ball valves with multiple ports allow flow in more than one direction eliminating the need for several valves.
Incorporating the above mentioned operating principles. There are many advantages of ball valves.
2.The Advantages Of Ball Valve
(1).Ball valve is not limited by the installation direction, the flow of the medium can be arbitrary. Fluid resistance is small, full diameter ball valve basically no flow resistance.
(2).Ball valve simple structure, relatively small size, light weight, easy maintenance.
(3).Tight and reliable. It has two sealing surface, and the sealing surface material of the ball valve is widely used in various plastics, good sealing, can achieve complete sealing. It has also been widely used in vacuum systems.
(4).Ball valve suitable for frequent operation, opening and closing quickly, lightweight. Easy to operate, open and close quickly, from fully open to fully closed as long as the rotation of 90 degrees, easy to remote control.
(5).Convenient maintenance, ball valve structure is simple, sealing ring is generally active, disassembly and replacement are more convenient.
(6).Ball valve seal performance is good. When fully open or fully closed, the sealing surface of the ball and the seat is isolated from the medium. When the medium passes through, it will not cause the erosion of the sealing surface of the valve.
(7).Wide range of application, small to a few millimeters, large to a few meters, from high vacuum to high pressure can be applied.
(8).Ball valves can be used in media with suspended solid particles because of their wipeability during opening and closing.
(9).Ball valve fluid resistance is small, no vibration, small noise.
3.The Application Of Ball Valve
Ball valves provide reliable leak protection which makes them perfect for a number of industrial applications. They have a low-pressure drop and can open and close quickly which makes them great for liquid and gas applications. Ball valves are extremely versatile so they can be used for subsea, underground, and cryogenic services.
Ball valves can be used for air, gas, and liquid applications that require bubble-tight service. They can also be used in low-point drains and high-point vents for liquid, gas, and other fluid applications. Cooling water and feed water systems can be regulated using ball valves and they can also be used for steam services.
Ball valves can be used at turbine skids, gas feed lines, compressor skids, crude oil plants, generator skids, polymer plants, separator skids, LNG plants, field gas plants, industrial gas processing plants, tank farms, oil refinery feedstock lines, hydrocarbon processing, and automated process applications. Stainless steel ball valves can be used in petroleum refining, desalination, and brewing.
Finally, Share the operation precautions of ball valves.
Opening or closing the

 ball valve, the

people

 can not be directly against the stem, should stand on the

 side of

 stem

.

Ball valve can only be fully opened and closed, do not do throttling use.

Ball valve opening or closing to be stable, force to be uniform, do not use the impact of the valve.

Perform a risk assessment before maintenance of ball valves.

Personnel, technical materials and other preparations should be made before maintenance. Safety evaluation and supervision should be done if it affects production before safety. Safety personnel should give on-site guidance if necessary.

Ball valve in the process of operation and maintenance is strictly prohibited with black metal instrument collision, knock the ball.