Understanding the Dual Plate Check Valve: A Comprehensive Overview
2023-08-14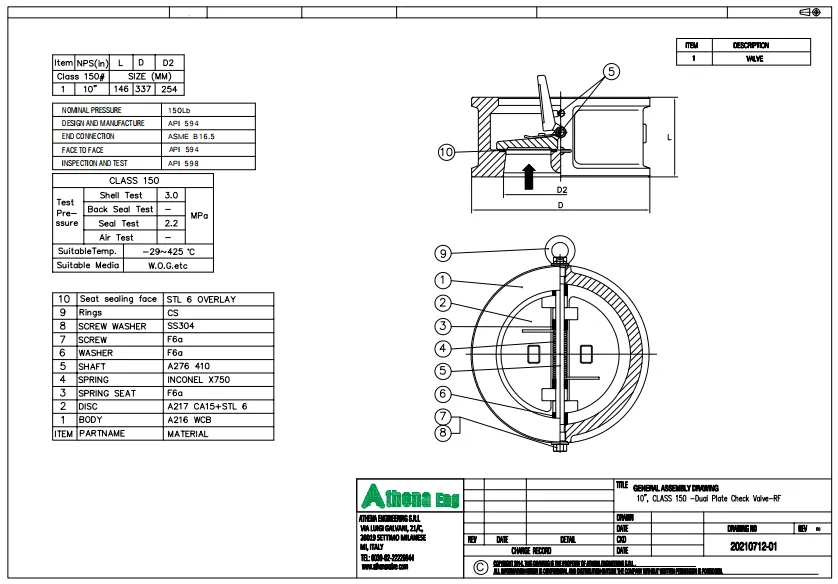 In the intricate landscape of fluid control mechanisms, the dual plate check valve emerges as a pivotal component. This article aims to delve into the intricate workings of the dual plate check valve, shedding light on its functionality, advantages, and widespread applications. With a focus on precision and reliability, this discourse seeks to provide an in-depth understanding of this essential valve variant.
What is a Dual Plate Check Valve?
A dual plate check valve, often referred to as a double plate check valve, is a specialized type of check valve designed to regulate the flow of fluids within a pipeline. It embodies a streamlined construction, consisting of two symmetrical plates that are hinged in the center. These plates serve as the pivotal components that determine the valve's operational mode. Purchase
dual plate check valve
.
How does a Dual Check Valve Work?
The operation of a dual plate check valve hinges on the fundamental principles of fluid dynamics. When fluid flows through the pipeline, the pressure differential between the inlet and outlet sides prompts the plates to open, allowing fluid passage. This unidirectional flow prevents backflow, ensuring the integrity of the system. When the flow stops or reverses, the plates promptly close under the influence of gravity and reverse flow pressure, sealing the valve and preventing any unwanted fluid backflow.
Advantages and Disadvantages of Dual Plate Check Valves 
In horizontal installations, a dual plate check valve has a non-slam design. The plates of the valve are mounted vertically in the middle of the body. In reverse flow conditions, the velocity of the flow is less than zero, and the valve shuts. As a result of the flow, the valve's seat and plates are cushioned, which reduces slamming. These types of check valves come in a variety of standard sizes. There are many technical specifications available and they are widely used throughout the industrial sector.
A dual-plate check valve has the advantage of being simple, as it has no retainer required. A retainer-less design permits it to be used in a wide range of applications, including air conditioning systems and heat pumps. In addition to its simplicity and robustness, this type of valve is a popular choice for many industries. Its low sound level makes it suitable for use in any environment. Also, since there are no moving parts, it can handle a wide range of pressure differentials without any issues.
Double plate check valves are designed with API 594 standards in mind.they are designed with retainer-less features that allow the installation of a hinge-pin and stop-pin without drilling through the valve's body.this valve also has a valve plate that is shaped like a door on an inclined surface of the seat.this ensures a proper seat position and full access to the valve seat.they are ideal for applications where a low-pressure control is needed,such as in chemical plants or industrial processes.
This type of check valve is a popular one. It is a valve that is designed to overcome some of the constraints of a single-plate valve, including its size and pressure drop. Additionally, this type of valve is characterized by the fact that it swings only in one direction and has its own unique shape. The flap, when it opens, is split and hinged down the middle. The disc plates are held against the seat by a torsion spring in the flap. This feature makes them ideal for high-pressure environments, where they can be installed in a wide variety of places.
Conventional check valves are also known for their noise levels. However, the latest models are designed to be quieter, making them even more attractive. However, this type of valve also has disadvantages, including the fact that it is noisy. Furthermore, it can damage mechanical equipment if used incorrectly. In case you are concerned about noise, you should not use this type of check valve. Its noise level can be problematic, resulting in a malfunction of the entire system.
In order to prevent reverse flow and minimize pressure, this type of valve has an extra-long rubber band, which helps to reduce installation and maintenance costs. The Nimonic spring is particularly useful for high-pressure applications. Moreover, the double plate check valve has a short-switch design, so the spring can close either way without being affected by pressure differences.
The ball check valve is another type of dual-plate check valve. It has a ball on one port and a round one on the other. A ball-sealed design allows the fluid to pass through the valve. When fluid flows into it, it pushes the ball inward and outward, forming a seal. Once the ball has been pushed through the valve, it cannot be closed by pressure on the other side.
This type of valve is used in air and gas applications and is often secured with rust-proof oil. Prior to installation, it is important to clean the valve and test its operation for rust and oil. When it comes to horizontal piping, a dual plate check valve is best installed. A dual-plate check valve should be installed using pin retainers. It is important to position the plugs both up and down.
The springs on a double plate check valve allow a fluid to pass through. In the first case, the plates are parallel, whereas in the second, they are angled. In this type of valve, flow is not controlled by backflow or backpressure, but by pressure differences. During a flow process, the disc plates open and close.
 Where is Dual Plate Check Valve Used?
The versatility of dual plate check valves renders them invaluable in a myriad of applications across industries. Some prominent uses include:
Water Supply Systems: These valves ensure efficient water distribution by preventing reverse flow in municipal water supply systems, ensuring water quality and system integrity.
Oil and Gas Industry: Dual plate check valves are deployed in oil and gas pipelines to regulate the flow of crude oil, natural gas, and refined products, enhancing safety and process efficiency.
Chemical Processing: Chemical plants rely on dual plate check valves to maintain unidirectional flow, preventing cross-contamination and ensuring the safe transport of corrosive fluids.
Wastewater Treatment: In sewage and wastewater treatment facilities, dual plate check valves prevent backflow, safeguarding equipment and maintaining proper treatment processes.
Power Generation: Power plants utilize these valves to control the flow of cooling water, preventing potential damage to turbines and ensuring consistent power generation.
Conclusion
In the intricate realm of fluid control, the dual plate check valve emerges as a critical component, ensuring unidirectional flow and safeguarding the integrity of various systems. Its streamlined design, quick closure, and versatile applications underscore its significance across industries. As the demand for precision fluid management grows, the expertise of dual plate check valve manufacturers becomes increasingly indispensable. In a world where reliable fluid control is paramount, the dual plate check valve stands as a testament to engineering innovation and operational excellence.