An Overview of Triple Eccentric Butterfly Valves
2023-08-11
Industrial processes often involve the transportation and control of fluids. To manage this flow effectively, a wide range of valves has been developed, each catering to specific needs and requirements. One such valve that stands out for its unique design and exceptional performance is the Triple Eccentric Butterfly Valve. In this comprehensive guide, we will explore the intricacies of these valves, their construction, applications, advantages, and considerations for selection.
Understanding Triple Eccentric Butterfly Valves
Butterfly valves are a type of quarter-turn valve commonly used to regulate the flow of fluids. The Triple Eccentric Butterfly Valve takes the concept further with its innovative design. Unlike traditional butterfly valves, which have a simple rotational disc for closure, triple eccentric butterfly valves incorporate three distinct levels of eccentricity:
First Eccentricity: The valve shaft is positioned off-center from the centerline of the valve body. This ensures a tighter seal and reduced wear on the sealing elements during opening and closing.
Second Eccentricity: The valve shaft is positioned slightly off the perpendicular axis to the plane of the valve seat. This feature reduces friction and wear during operation, extending the valve's service life.
Third Eccentricity: The sealing surface of the disc is designed in a conical shape, allowing the disc to fully disengage from the valve seat without any friction. This design enables bubble-tight shut-off and minimal wear.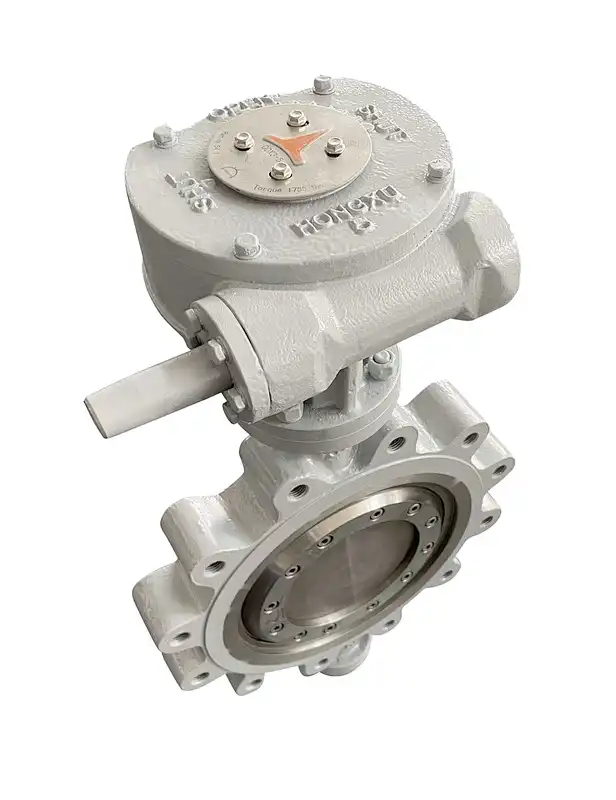 Types of Triple Eccentric Butterfly Valves
Metal-seated Triple Eccentric Butterfly Valves: Featuring a metal seat and sealing disc, these valves have excellent sealing performance and are resistant to high temperatures and corrosive fluids.
Soft-seated Triple Eccentric Butterfly Valves: Triple eccentric butterfly valves with soft seats and sealing discs are made from resilient materials such as rubber or PTFE, thus providing reliable sealing and bubble-tight shutoff.
Construction and Components
Triple eccentric butterfly valves are made up of several key components:
Valve Body: Usually made from cast or forged materials such as carbon steel, stainless steel, or exotic alloys. The body is designed to withstand the pressure and temperature conditions of the fluid.
Valve Disc: The disc, also known as the butterfly, is attached to the valve shaft. It features the third eccentricity, which allows for a tight seal and minimal friction during operation.
Valve Shaft: This component is responsible for transmitting the torque from the actuator to the disc. It is designed to handle the stresses of rotation and movement.
Seat Ring: The seat ring is where the disc comes into contact to achieve a tight seal. It's often made of materials like metal or elastomers to suit different applications.
Actuator: The actuator, which can be pneumatic, electric, hydraulic, or manually operated, controls the valve's opening and closing. It converts energy into motion to adjust the valve position.
Sealing Materials: To ensure a leak-free operation, sealing materials are used in various parts of the valve, such as the seat ring, disc, and shaft.
Working Principles of Triple Eccentric Butterfly Valves
Using the triple offset design, triple eccentric butterfly valves operate. Because the disc has triple eccentricity, it allows the sealing edge to move away from the seat in a non-rubbing, cam-like motion, ensuring a tight and bubble-tight seal against the seat despite high pressure. The disc is completely free from the flow path when the valve is fully open, resulting in minimal pressure drop and unobstructed flow.
Applications of Triple Eccentric Butterfly Valves
Triple eccentric butterfly valves find applications across a range of industries due to their unique design features:
Oil and Gas: These valves are used in pipelines to regulate the flow of crude oil, natural gas, and refined products. Their ability to handle high-pressure and high-temperature conditions makes them suitable for demanding environments.
Power Generation: Triple eccentric butterfly valves are commonly used in power plants to control the flow of steam and other fluids in boiler systems, cooling water circuits, and fuel supply lines.
Chemical and Petrochemical: The valves are employed in chemical processing plants to manage the flow of corrosive fluids. The third eccentricity design minimizes wear and prevents leakage, ensuring safety and efficiency.
Water Treatment: In water treatment plants, these valves regulate the flow of water and chemicals, offering precise control and bubble-tight shut-off.
Marine: Triple eccentric butterfly valves are used in shipbuilding for various applications, including ballast systems, cooling systems, and fuel lines.
Mining: Mining processes involve the transportation of abrasive materials and slurries. These valves can withstand the wear and tear associated with such applications.
Advantages of Triple Eccentric Butterfly Valves
Tight Sealing: The third eccentricity design ensures a tight seal even under high-pressure conditions, minimizing the risk of leakage.
Low Friction: The triple eccentric design reduces friction during valve operation, extending the valve's service life and reducing maintenance requirements.
High-Temperature and High-Pressure Capabilities: These valves can handle extreme conditions, making them suitable for industries such as oil and gas and power generation.
Bi-Directional Flow: Triple eccentric butterfly valves offer bidirectional shutoff capabilities, providing flexibility in flow direction.
Compact Design: The valve's compact design and quarter-turn operation make it suitable for applications with limited space.
Considerations for Selection
When selecting a triple eccentric butterfly valve for a specific application, several factors must be considered:
Fluid Type: The type of fluid being transported determines the materials used for the valve body, disc, and sealing elements.
Temperature and Pressure: The valve must be chosen based on the expected temperature and pressure conditions to ensure it can operate safely and effectively.
Size and Flow Rate: The valve size should be selected to accommodate the required flow rate without causing excessive pressure drops.
End Connections: The valve's end connections should match the existing pipeline infrastructure.
Actuator Type: The choice of actuator (pneumatic, electric, hydraulic) depends on the automation level and control requirements of the system.
Environmental Factors: Consider environmental factors such as corrosive atmospheres, abrasive media, and outdoor installation conditions.
In Conclusion
Triple eccentric butterfly valves are a testament to the constant innovation in valve technology. Their unique design features make them an ideal choice for applications where tight shut-off, low friction, and high-performance are essential. By understanding their construction, advantages, and suitable applications, engineers and professionals can make informed decisions when selecting these valves for their systems. Whether it's managing the flow of fluids in oil refineries, power plants, or chemical processing units, the triple eccentric butterfly valve stands as a reliable solution for fluid control challenges.