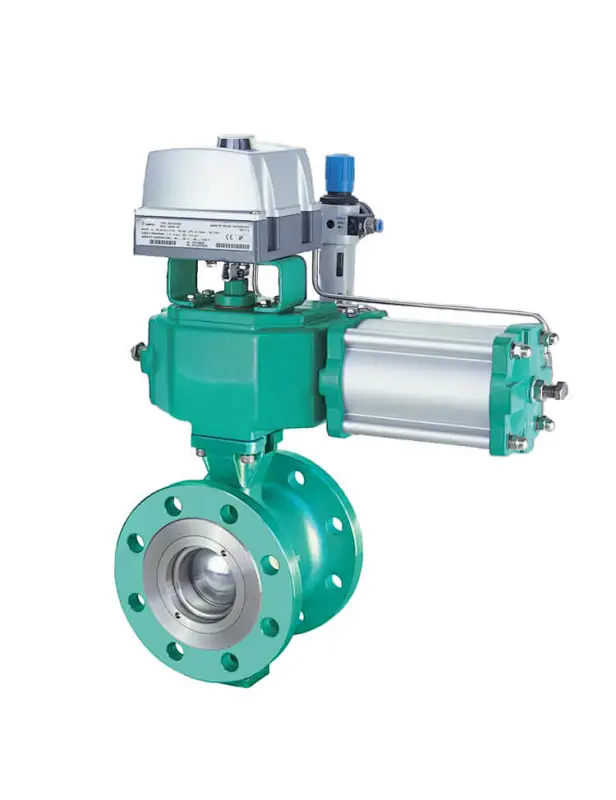 3/4"- 12" 150LB ~600LB Characterized Control Fast Response High Range Ability
Size: 3/4"  ~ 12" 

Pressure Rating: 150LB ~600LB

Body Material: Carbon Steel/Stainless Steel/Alloy Steel/Duplex Steel

End Connection: RF

Operation: PAA pneumatic angle actuator、Electric actuator

NACE: MR0175

Bore: Full Bore and Reduced Bore

Certificate: CE/PED, ISO, ATEX, SIL, FIRE SAFE
Product Overview:

Athena v ball control valve
- Composed of v ball valve, actuator and other accessories.
- It utilizes compressed air forcing stem to drive the ball rotating in the body, achieving fully open to fully close.
- A full range of control applications is available with superior flow control.
- These 1/4-turn control ball valves are more compact, lighter weight and much less expensive than comparably sized globe valves and segmented control valves offered by other companies.
- Offer fast response times to control signals due to advanced digital control of actuation and the inherent strengths of ball valves.
- These valves exceed Class VI offering bubble-tight shutoff with zero leakage.
- Other features include superior rangeability and repeatability, high flow capacity, the ability to function with fluids containing solids and fibers, ease of maintenance and exceptional interface with PLCs and computer command signals.
- Standard round ported ball valves have been used, and continue to be used, for many control applications such as services involving moderate pressure drops. 

Athena engineering S.R.L high quality pneumatic and electric control actuators are very durable and efficient.
 
---

Partial List of Applications:

- Oil & Gas Pipelines
- Refineries and Petrochemical Plants
- Power Generation
- Gas and Coal Fired Turbines
- District Heating
- Gas Measurement Systems
- Offshore Platforms
- HIPPS Systems
- Cryogenic Service Applications
- Emergency Shut Down Valves
- Pulp & Paper
- Mining
- Boiler Steam and Drain Applications