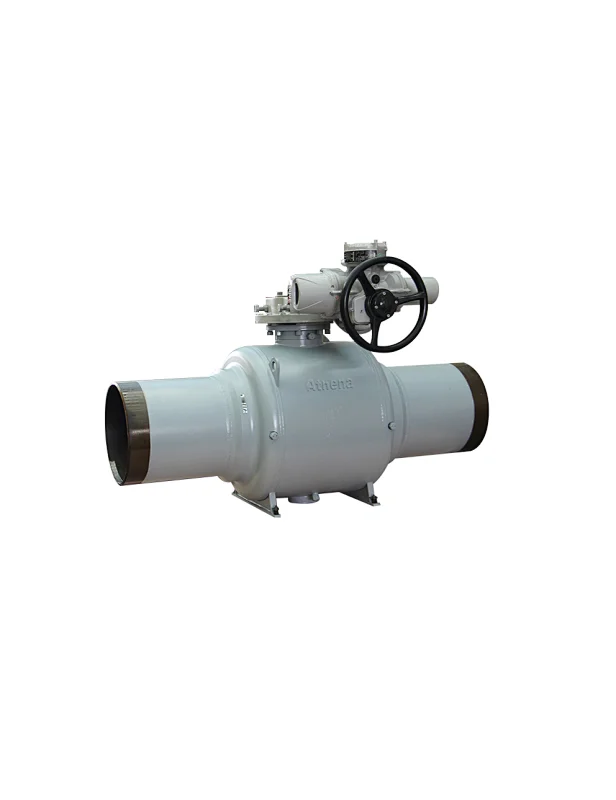 Electric Full Welded Ball Valve
Electric Full Welded Ball Valve
Product Overview:ATHENA welded ball valves are designed according to API6D standard,transition & pup pieces could to match line grade if needed, available with stem extension for buried installation. Athena supplies a full range of Fully Welded Ball Valves, trunnion mounted, for onshore and offshore topside applications in the Oil & Gas transmission.Fully welded ball valve offers the advantage of a compact envelope, which allows for increased strength and significant reduction in weight. Furthermore, since the body is made by welding forged parts, there are fewer potential leak paths when compared to side-entry and top-entry ball valves.
Athena supplies fully welded ball valves in a wide range of materials and configurations to meet any specific need of the application and customer's requirements. Many optional features are available for seat designs, seat and stem seals, and end connections. 
Fully welded valvecomply with ISO 14313 requirements and with all the relevant Industry standards and codes (ANSI, API, ASME, BS, ISO, NACE, PED and others). 


Features&Compliance:

size: 2"~40"
pressure rating: 150Lb~2500Lb
body material: Carbon steel /Stainless steel / Alloy steel /Special ( Monel /Inconel /Hastelly etc.) alloy steel/Albronze
end connection: RF/RTJ/BW
operation: Motor

Partial List of Applications:

- Oil & Gas Pipelines
- Refineries and Petrochemical Plants
- Power Generation
- Gas and Coal Fired Turbines
- District Heating
- Gas Measurement Systems
- Offshore Platforms
- HIPPS Systems
- Cryogenic Service Applications
- Emergency Shut Down Valves
- Pulp & Paper
- Mining
- Boiler Steam and Drain Applications