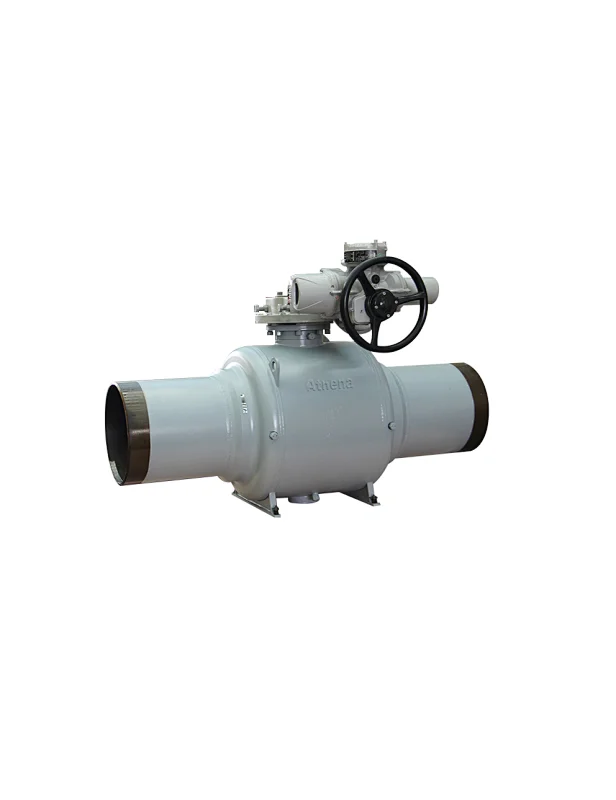 2"-40"150LB~2500LB Pressure & Temperature Ranges Leak-Free Valve Operation Ball Valve
Electric Full Welded Ball Valve
Size: 2"~40"

Pressure rating: 150Lb~2500Lb

Body material: Carbon steel /Stainless steel / Alloy steel /Special ( Monel /Inconel /Hastelloy etc.) alloy steel/Albronze

End connection: RF/RTJ/BW

Operation: Motor
Product Overview:

ATHENA electric full welded ball valves
- Offers the advantage of a compact envelope, which allows for increased strength and a significant reduction in weight.
- Since the body is made by welding forged parts, there are fewer potential leak paths when compared to side-entry and top-entry ball valves.
- Athena supplies fully welded ball valves in a wide range of materials and configurations to meet any specific need of the application and customer's requirements. - Many optional features are available for seat designs, seat and stem seals, and end connections.
- Transition & pup pieces could match line grade if needed, available with stem extension for buried installation.
- Athena supplies a full range of Fully Welded Ball Valves, trunnion mounted, for onshore and offshore topside applications in Oil & Gas transmission.
- Designed according to API6D standard.
- Comply with ISO 14313 requirements and with all the relevant Industry standards and codes (ANSI, API, ASME, BS, ISO, NACE, PED and others). 

Partial List of Applications:

- Oil & Gas Pipelines
- Refineries and Petrochemical Plants
- Power Generation
- Gas and Coal Fired Turbines
- District Heating
- Gas Measurement Systems
- Offshore Platforms
- HIPPS Systems
- Cryogenic Service Applications
- Emergency Shut Down Valves
- Pulp & Paper
- Mining
- Boiler Steam and Drain Applications