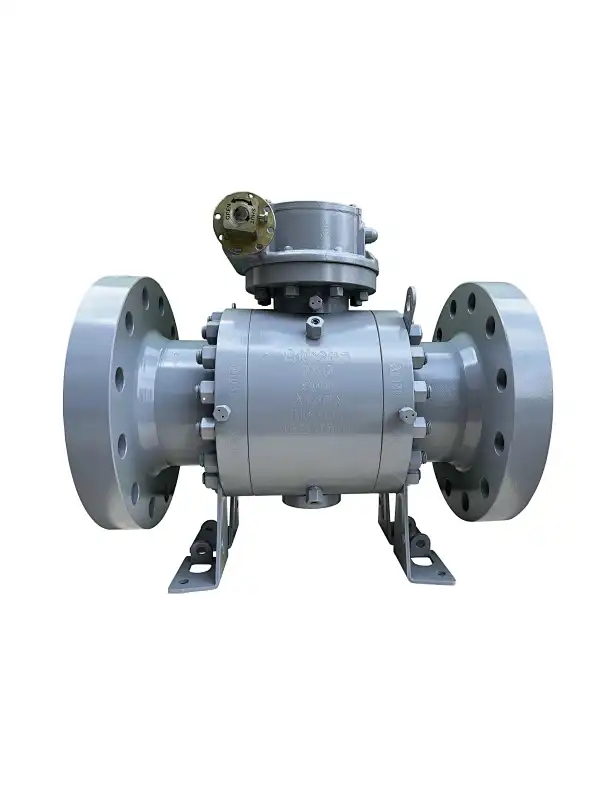 Trunnion Ball Valve 2"~40"API6D Wide Portfolio Of Side-Entry And Top-Entry Designs
Forged Steel Trunnion Ball Valve
Size: 2"~40"

Pressure rating: 150Lb~2500Lb

Body material: Carbon steel /Stainless steel / Alloy steel /Special ( Monel /Inconel /Hastelloy etc.)

End connection: RF/RTJ/BW

Operation:Lever/Gear/Motor/Pneumatic actuators 

Seat type: Soft seat/Metal seat

Design: Blow-out proof stem design, Anti-static design and API 607 Fire Safe Design

Bore: Full Bore and Reduced Bore

Certificate: CE/PED, ISO, ATEX, SIL, FIRE SAFE
Product Overview:

Athena forged steel trunnion ball valve
- Using a ball as the structure to close the cross-section of the pipe and prevent the flow of the fluid.
- Forged steel bolted or all welded body, close coupled trunnion block design for low operating torques, secondary seat sealant feature.
- Offered with self relieving seats or optional double piston sealing. Special seat compounds are also available.
- Each valve meets API-6D, API 6FA and Nace requirements.
- Optional stem extensions, actuators, pipe pups and specialized coatings.
Partial List of Applications:
-
Oil & Gas Pipelines
-
Refineries and Petrochemical Plants
-
Power Generation
-
Gas and Coal Fired Turbines
-
District Heating
-
Gas Measurement Systems
-
Offshore Platforms
-
HIPPS Systems
-
Cryogenic Service Applications
-
Emergency Shut Down Valves
-
Pulp & Paper
-
Mining
-
Boiler Steam and Drain Applications