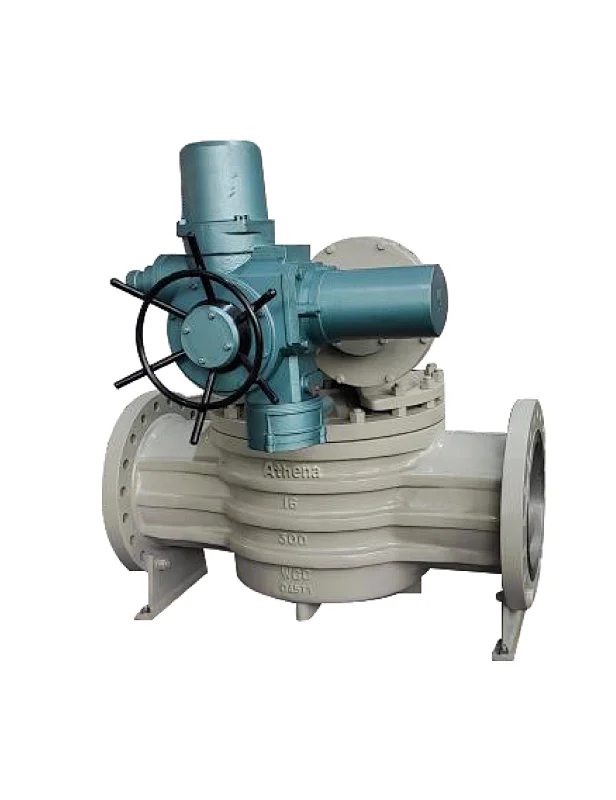 1/2″-72″150LB~2500LB Simple Structure, Easy Maintaining Can Withstand More Strength Piping System
Size: 1/2"~72"

Pressure rating: 150Lb~2500Lb

Body material: Carbon steel /Stainless steel / Alloy steel /Special ( Monel /Inconel /Hastelloy etc.)

End connection: RF/RTJ/BW

Operation: Motor

NACE: MR0175

Bore: Full Bore and Reduced Bore

Certificate: CE/PED, ISO, ATEX, SIL
Product Overview:

Athena electric eccentric plug valve
- The valves are available in short-body and long-body configurations and are seat-tested in the direct pressure direction unless otherwise specified.
- In design, the port and plug face is round, similar to a half ball valve.
- rectangular and round, can be provided with standard 80% port openings or full 100% port.
- The operation torque is greatly reduced, the wear of the sealing surface is reduced to the limit, and the service life of valve is extended.
- Rectangular straight abortion, small head loss, good linear flow regulation.
- Plug valves also can be provided with -metal-to-metal seats for severe applications such as activated sludge service.
- Its excellent sealing and corrosion resistance, suitable for urban sewage, industrial sewage, mud and clear water and other working environments.

Athena manufactures valves from genuine guaranteed raw material with material test certificates, hydraulic test certificates, MTC 3.1 available with all supply. Also, we can provide valves with third party inspection agencies.

 
---

Partial List of Applications:

- Oil & Gas Pipelines
- Refineries and Petrochemical Plants
- Power Generation
- Gas and Coal Fired Turbines
- District Heating
- Gas Measurement Systems
- Offshore Platforms
- HIPPS Systems
- Cryogenic Service Applications
- Emergency Shut Down Valves
- Pulp & Paper
- Mining
- Boiler Steam and Drain Applications