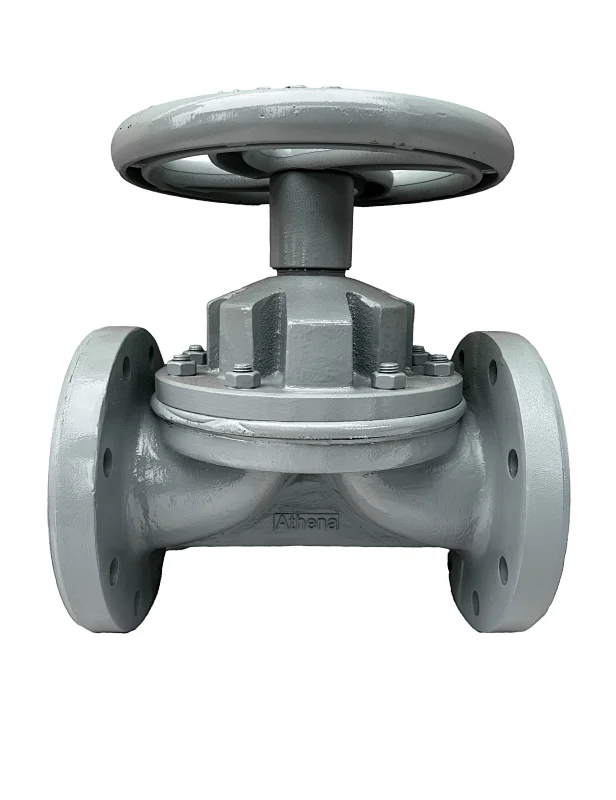 Diaphragm Valve
Size: 1~40"

Pressure rating: 0 – 100 psi

Body material: Carbon steel /Stainless steel / Alloy steel /Special ( Monel /Inconel /Hastelloy etc.) /alloy steel

End connection: RF/RTJ/BW

Operation: Hand wheel / Gear/ motor/pneumatic actuators

NACE: MR0175

Certificate: CE/PED, ISO, ATEX, SIL
Product Overview:
Athena diaphragm




-

C

onnected to a compressor by a stud molded into the diaphragm.  




-

To start or increase flow the compressor is moved up by the valve stem.  




-

To stop or slow flow, the compressor is lowered and the diaphragm is pressed against the bottom of the valve.  




-

Diaphragm valves are excellent for controlling the flow of fluids containing suspended solids and offer the flexibility of being installed in any position.  




-

Weir-type diaphragm valves are better at throttling than straight though diaphragm valves because the design's large shutoff area along the seat gives it the characteristics of a quick-opening valve.  




-

The diaphragm acts as the gasket of the valve to seal against leaks between the body and bonnet cap.
Partial List of Applications:
-
Oil & Gas Pipelines
-
Refineries and Petrochemical Plants
-
Power Generation
-
Gas and Coal Fired Turbines
-
District Heating
-
Gas Measurement Systems
-
Offshore Platforms
-
HIPPS Systems
-
Cryogenic Service Applications
-
Emergency Shut Down Valves
-
Pulp & Paper
-
Mining
-
Boiler Steam and Drain Applications