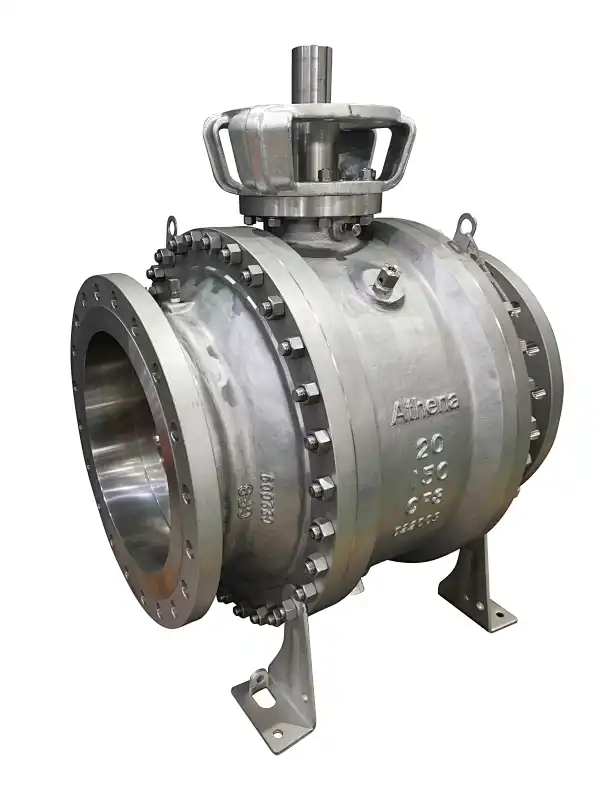 High-Performance Ball Valve 2"~40"150LB~600LB API6D Operation At High Line Pressure
Cast Steel Trunnion Ball Valve
Size: 2"~40"

Pressure rating: 150LB~600LB

Body material: Carbon steel /Stainless steel / Alloy steel /Special ( Monel /Inconel /Hastelloy etc.)

End connection: RF/RTJ/BW

Operation:Lever/Gear/Motor/Pneumatic actuators 

Seat type: Soft seat/Metal seat

Design: Blow-out proof stem design, Anti-static design and API 607 Fire Safe Design

Bore: Full Bore and Reduced Bore

Certificate: CE/PED, ISO, ATEX, SIL, FIRE SAFE
Product Overview:


Athena cast steel trunnion mounted ball valves
- In a wide variety of cast materials covering carbon steel, alloy steel, and stainless steel.
- The ball of a trunnion mounted ball valve is fixed or constrained at two pivot points(upper stem and bottom stem).
- By using a bearing at the bottom stem(trunnion), only pivoting movement is allowed within the body cavity.
- The upstream seat is a floating seat and the process pressure pushes it against the ball's sealing surface.
- The seat can also be pre-stressed during assembly, using seats that have a spring action. This design applies continuous pressure against a trunnion-mounted ball after the ball is installed, while the top-works apply a load to the entire closure member.
- Cast steel trunnion mounted ball valves are often soft seated and can attain a bubble-tight sealing.
Partial List of Applications:
-
Oil & Gas Pipelines
-
Refineries and Petrochemical Plants
-
Power Generation
-
Gas and Coal Fired Turbines
-
District Heating
-
Gas Measurement Systems
-
Offshore Platforms
-
HIPPS Systems
-
Cryogenic Service Applications
-
Emergency Shut Down Valves
-
Pulp & Paper
-
Mining
-
Boiler Steam and Drain Applications