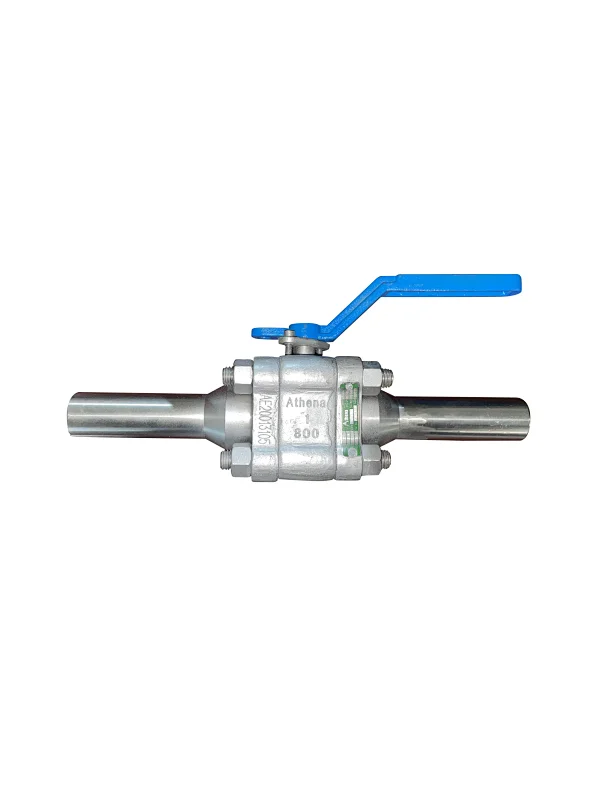 3 Piece Forged Steel Ball Valves
3 Piece Forged Steel Ball Valves
Product Overview: Athena 3 Piece forged steel floating ball valve is configured in a forged bolted three-piece split-body design with a small diameter, Our valves used in the major industrial applications.The Forged Body made from A 105 Carbon Steel and Forged SS 304 or Forged SS 316 can be available on the request.
The end connections of valves are socket weld, Screw End ,butt weld end valves and flanged valves.
These valves are designed as per BS 5351 or api 602 and sizes -1/2 inch to 2 inch. The valves as mfg. as per 300#,600# & 800 # Pressure Rating . We are providing the PTFE/CFT as Seat and Seal.Our Valves are operating at very high temperatures up to 300-degree celcious. We also design special valves for operating at high-pressure up to 9000 PSI for special applications.the ball valve leaking level meet the standard and  meet  project medium requirement
valves struture design included trunnion ball valve &floating ball valve with complete certification api 608,
We manufacture valves from genuine guaranteed raw material with material test certificate , hydraulic test certificates , Mill TC 3.1.b available with all supply. Also , we can provide valves with third party inspection agencies.
Features&Compliance:

Size: 1/2"~2"
Pressure rating: 800Lb~1500Lb
Body material: Carbon steel /Stainless steel / Alloy steel /Special ( Monel /Inconel /Hastelly etc.)
End connection: FNPT/SW
Operation:Lever/Gear/Motor/Pneumatic actuators 
Seat type: Soft seat/Metal seat
Blow-out proof stem design
Anti-static design and API 607 Fire Safe Design
Bore: Full Bore and Reduced Bore
Certificate: CE/PED, ISO, ATEX, SIL,FIRE SAFE

Partial List of Applications:

- Oil & Gas Pipelines
- Refineries and Petrochemical Plants
- Power Generation
- Gas and Coal Fired Turbines
- District Heating
- Gas Measurement Systems
- Offshore Platforms
- HIPPS Systems
- Cryogenic Service Applications
- Emergency Shut Down Valves
- Pulp & Paper
- Mining
- Boiler Steam and Drain Applications